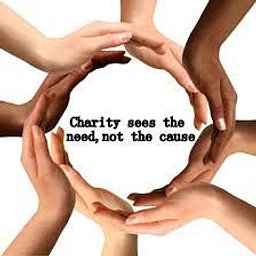 Christian giving is an expression of the grace of God (2 Cor 8:1-6). As such, we are called to give generously and with joy to the glory of God. Over the years, our ministry has been blessed by your kind generosity. You have partnered with us in giving to the worthy cause of feeding the hungry, clothing the naked and spreading the gospel. We can assure you that your efforts are not in vain.
We continue to implore you that as you excel in everything - in faith, in speech, in knowledge, in complete earnestness and in your love for us - see that you also continue to excel in this grace of giving. For it is more blessed to give than to receive. Be assured that as you are faithful in giving to the work of God, a mighty harvest awaits you. Be expectant as He returns to you, press down, shaken together and running over. For it is written, "Now he who supplies seed to the sower and bread for the food will also supply and increase your store of seed and will enlarge the harvest of your righteousness. You will be made rich in every way so that you can be generous on every occasion..." (2 Cor 9:6-11a). Our prayers are with you as you receive a blessing in every area of your lives.
WHY GIVE?
Christian giving has symbolic significance. It is being deliberately obedient to the will, word and purpose of God in contributing to the cause of Christ. It is therefore more than the mere transfer of cash to what it represents, more than geographical - the physical areas to be covered and more than economical - from the rich to the poor.
Importantly, Christian giving expresses our theology of our confidence in the gospel of Jesus Christ. It carries the belief that the gospel is God's power for salvation and gives everyone an opportunity to hear and respond. Our giving enables the planting and maturing of the church of God as we acknowledge its centrality in God's purpose and his desire to bless us through our obedience.
Consequently, Christian giving promotes thanksgiving to God. Paul exhorts in (2 Cor 9:11b-15), "This service that you perform is not only supplying the needs of God's people but is also overflowing in many expressions of thanks to God. Because of the service by which you have proved yourselves, men will praise God for the obedience that accompanies your confession of the gospel of Christ, and for your generosity in sharing with them and with everyone else. And in their prayers for you their hearts will go out to you, because of the surpassing grace God has given you." Thanks be to God for his indescribable gift!
May we purpose to continuously heed to the call to give.
HOW TO GIVE
There are many different ways you can give to the ministry. You can either click on this button which will take you to PayPal or click on contact us to fill out the form provided. In the message box on the contact us page, please let us know whether you want our account number to make a deposit, wire transfer or otherwise. You can also donate items such as food and clothing via shipment.
Click to see where your donations have been going.
MORE INFO
For more information about giving and volunteering, please contact us.