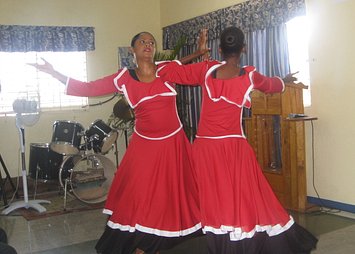 WORSHIP SERVICE
"And they that worship Him must worship Him in Spirit and in truth." John 4:24
Our dynamic, Spirit-filled worship service begins at 9am-12noon on Sundays. It includes intercessory prayers, worship in praise, testimonies and the preaching of the Word of God. There is Holy Communion each first Sunday, International Missions update on third Sundays, deliverance service each fourth Sunday and celebration Sunday every fifth Sunday. As you join us in worship a warm welcome awaits you.
SUNDAY SCHOOL
Sunday School classes are held each Sunday morning at 12:10-1pm. The classes are designed to empower the lives of individuals in ways that would motivate them to become more inspired through the impactful teachings of the Word of God.
BIBLE STUDY
As we search into the depths of the scriptures and receive the revelations of God, there is never a dull moment in our Bible Study sessions. Our informative, in-depth and insightful Bible Study sessions are further complemented a short devotional period at the beginning and ends with intercessory prayers each Tuesday at 7pm.
INTERNATIONAL AND LOCAL MISSIONS AND EVANGELISM (I.L.M.E.)
The church of God is commissioned to, "Go and make disciples of all nations, baptizing them in the Name of the Father and of the Son and of the Holy Spirit" (Matthew 28:19). F.R.E.M.I is committed to this mandate as it takes its preaching, teaching and counselling programmes locally and to different countries of the world.
Joshua Generation is a group of spirited and focused youth who understand that their purpose is to claim the next generation for Jesus Christ. They have begun to target other youths in communities between the ages of 13 - 21 years old through evangelism with sports evangelism being a major means of reaching the youths.
LOP is a dance ministry which is designed to use the body to give glory and honor to God.
WOMEN OF ROYAL DESTINY (W.O.R.D)
Women of Royal Destiny are women who wins daily because they put their trust in God's Word. They believe that in Christ Jesus they are overcomers inspite of the circumstances they may find themselves. They are strong, determined and undefeated because of their hope of salvation. The aim of the ministry is to empower women to fulfill their God given purpose as they become grounded in the word of God.
God has called men as spiritual leaders and heads of the home. Gideon, the men's ministry is positioned for greatness as they take up the mantle to go and touch the lives of others, in particular men.
SOLDIERS USING THE WORD TO OBLITERATE, RESTORE AND DELIVER (S.W.O.R.D)
The ministry of S.W.O.R.D. is empowered by the Holy Spirit through prayer, fasting and deliverance to set captives free. We believe that prayer is the heart beat of every ministry, and none can survive without it. Prayer is man's sword giving God the legal right and permission to interfere in earth's affairs. S.W.O.R.D. is well utilized each time the believers of FREMI meet for worship, there are also frequent prayer vigils, prayer walks in communities and all night prayer meetings. In addition, private prayer and deliverance sessions are arranged as required with individuals and families.
Mark 16:15 "Go into all the world and preach..."
The ministries of FREMI are carefully selected and designed to meet the need of individuals and families based on the mandate given to the church by God.